In this article we will take a look at House Suggestion submission from the frontend.
Submitting House Suggestions in Real Estate Manager
When you have configured Real Estate Manager to allow users of your website to submit House Suggestions, the users can enter house suggestions through the Suggest house button in the main Category View and in the  List in each category.
Frontend House Suggestion form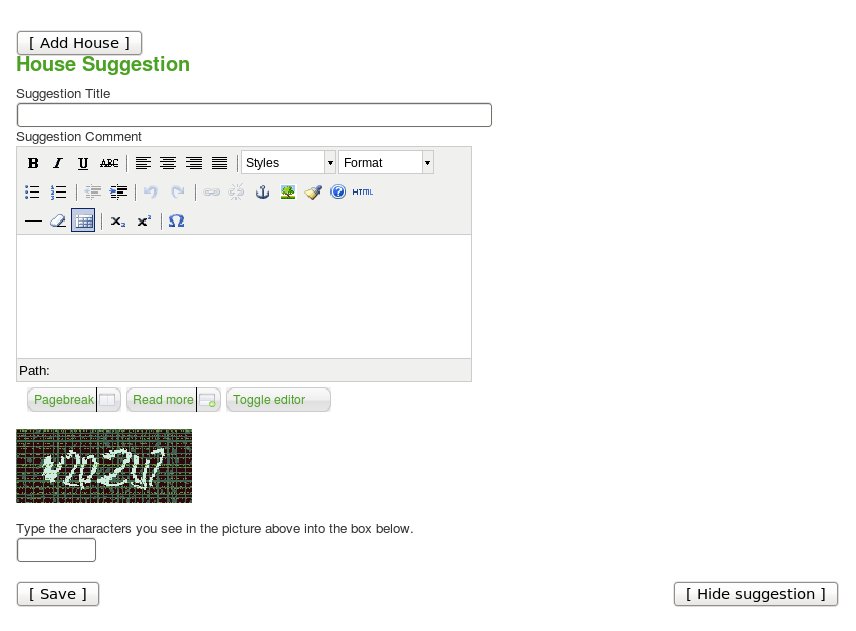 The user can enter a Title for their suggestion and enter the suggestion itself in a free text box. Once everything is filled in, the user clicks on the Save button on the bottom of the form. The Suggestion will be submitted to the backend. If you have allowed Suggest House for Guest users in Settings Frontend, then Guest users will see a CAPTCHA image underneath the form and a text box where they have to enter the code generated. Registered users will NOT see a CAPTCHA.
Suggestion Flow.
At the moment the Suggestion flow is rather crude. The user enters a suggestion  and the Admin views it in the backend. Admin can configured take emails with every new suggestions added. The Admin will have to look up the house manually and enter it into the Real Estate manager manually.