Options of responsive OS Touch Joomla Slider - Joomla Slideshow module
Let's have a look at Responsive Joomla Slider and its options. In the configuration panel there are four options tabs: Images, General, Advanced and Animation.
Images options tab of Responsive slider
There you can upload images to slider, add text blocks, add HTML blocks, set settings for images and HTML blocks, like: font, font color, block color, animation ... More about this tab please check: How to manage images and create captions in OS Touch the best Joomla slider
General options of Joomla slider
General options of Joomla Carousel include:
| Title | Description |
| --- | --- |
| Pixels or percentage | Pixels or percentage for width and height |
| Width setting | Joomla slideshow module width in px or percents |
| Height setting | Joomla slideshow module height in px or percents |
| Crop image setting | Crop, resize or leave image original sizes |
| Slider direction settings | Horizontal or vertical joomla slideshow direction |
| Initial joomla slide | Index number of initial joomla slide |
| Autoplay parameter | Delay between transitions in ms. If this parameter is not specified, auto play will be disabled |
| Autoplay stops on last | Enable this parameter and autoplay will be stopped when it reaches last photo slide (has no effect in loop mode) |
| Autoplay interactions setting | Set to No and autoplay will not be disabled after user interactions (swipes), it will be restarted every time after interaction |
| Speed | Duration of transition between photo slides (in ms) |
| Prev/Next arrows | Shows or not Prev/Next arrows in responsive joomla slider |
| Export | Makes the download of the responsive joomla slider all settings for next import to another site with OS photo slider |
| Import | Makes the loading of the responsive joomla slider from file which created at time Export. |
Attention! Before doing Export or Import of Joomla Slideshow, make a copy of the database if there are more then one slider on the website, save only the one you in after uploading, the other joomla slideshow will be deleted.
Advanced tab options Joomla responsive slider
In Advanced options (available only in PRO versions) in Joomla responsive slider you can set:
| Title | Description |
| --- | --- |
| Slides per view | Number of images in row per photo slide |
| Slides per column | Number of images in column per photo slide |
| Column fill | Defines how joomla responsive slideshow should fill rows, by column or by row |
| Slides per group setting | Set numbers of slides to define and enable group sliding |
| Centered slides | Enables auto-centering of image slide |
| Pagination option | Shows pagination or not in OS photo carousel |
| Pagination type | String with type of pagination. Choose between "bullets", "fraction" and "progress" |
| Pagination clickable | If Yes then clicking on pagination button will cause transition to appropriate photo slide. Only for bullets pagination type |
| Scrollbar setting | Shows scrollbar |
| Keyboard control | Set to Yes to enable navigation through responsive slider using keyboard right and left (for horizontal mode), top and borrom (for vertical mode) keyboard arrows |
| Mousewheel control | Set to Yes to enable navigation through joomla carousel using mouse wheel |
| Mousewheel on edges | Set to Yes and slider will release mousewheel event and allow page scrolling when joomla slideshow is on edge positions (in the beginning or in the end) |
| Free mode | If Yes then joomla carousel will not have fixed positions |
| Loop | Set to Yes to enable continuous loop mode |
| Lazy loading | Set to Yes to enable images lazy loading |
| Reset settings | Resets setting to default |
Animation settings in Slideshow module
In Animation settings of Joomla Slideshow module you are able to create any custom transition effect using special tool:
In this tab settings, with help the Speed you can adjust how long every photo slide of the slideshow module will show.
With the help of Animation you can customize various special effects that you can see when the picture shows.
Fade,
Cube,
Parallax,
Pulse,
Super Flip,
Bounce + Swing,
Flip + Pulse,
Fade in Right + Tada,
Shake + Rotate Out,
Slide in Up + Hinge,
Slide in Down + Bounce,
Custom Transition Effect.
Also on the panel there is a Save button. This button is common for all options and can be used on any settings tab. When you click the Save button, the joomla settings slider window will disappear.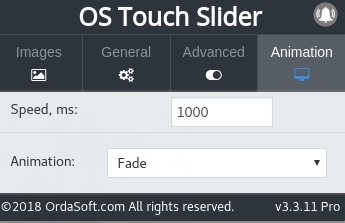 The OS Responsive Slideshow can be used to view photos, for the purpose of informing and also advertising campaigns. Modern trends in the world are such that you need to try to rationally use the information component and beautiful design, so we combined these qualities in this slider. After all, now when searching the Internet for various products, users pay attention not only to the qualities that can be used at the moment, but also how these qualities can be used in the future, which means that all software products must meet all the latest technical requirements. One of the most interesting solutions was the use of sliders. It is through them that you can clearly, briefly and visually show the most important information that the user will receive on the site. Some users will say that the OS Touch slider seems to be an extra adornment and a means of "loading" the site, but with competent development it will be a huge plus. Joomla responsive slider is constantly updated, which allows you to use it and install it without any difficulties. How to install responsive Joomla Slideshow - Ordasoft Touch Joomla Slider you can see at this link. There is a detailed description with pictures of how to install joomla responsive slider.
Also there are instructions on our website about what additional features are in the OS picture slider for example: how to insert the video that you shot yourself or maybe take a video from youtube with your favorite singer or a screensaver from a famous film. You can easily do this if you go to the How to Embed YouTube video into OS Touch Joomla Slider and make Video Joomla slider page.
Also we have technical support if you have any problems with installation or update, as well as questions on using the OS Picture Slider you can always contact the forum with your problem and our specialists will always answer you. At the forum there are many topics and questions that used to arise from other users of the slider and maybe you can find the answer to your question. If you won't find an answer to your question, write to us and we will gladly answer you.
Also, read useful articles about Joomla Slider: